IKEA continually proves itself to be one of the most environmentally-friendly companies on the planet. The Swedish home furnishings retailer introduced a hydroponic garden last year that allows you to grow fresh produce in your home without any soil or gardening experience, and the company ditched Styrofoam packaging for biodegradable packaging that you can actually put in your garden to nourish your plants.
The latest sustainable endeavor by IKEA is the Growroom, a spherical, multi-tiered indoor garden that you can build at home because the design is open-source. This thing is so big, it's actually designed to sustainably grow enough food to feed a whole neighborhood.
Space10, the IKEA lab thatexplores sustainable solutions for future urban living, says in the open-source plan:
"Itis designed to support our everyday sense of well-being in the cities by creating a small oasis or 'pause' architecture in our high paced societal scenery and enables people to connect with nature as we smell and taste the abundance of herbs and plants."
The beauty of the Growroom is that fruits and vegetables can be grown in abundance virtually anywhere, including urban dwellings. In cities where there are food desserts, the Growroom allows communities to work together to create and strengthen bonds, provide healthy food, and teach children about nature.
Space10 continues:
"Local food represents a serious alternative to the global food model. It reduces food miles, our pressure on the environment, and educates our children of where food actually comes from. The challenge is that traditional farming takes up a lot of space and space is a scarce resource in our urban environments."
Once completed, the garden measures 2.8 by 2.5 meters (9 by 8.2 feet). Water and light easily reach the growing fruits and veggies through the interlocking pieces without leaking through to the other side, so you won't have mess after tending to your plants. Its Creative Commons license means you can keep adding to the design.
"The pavilion, built as a sphere, can stand freely in any context and points in a direction of expanding contemporary and shared architecture.

The overlapping slices ensure that water and light can reach the vegetation on each level, without reaching the visitor within and thereby functions as a growth activator for the vegetation and shelter for the visitor."
Yup, it's big enough that you can sit in it.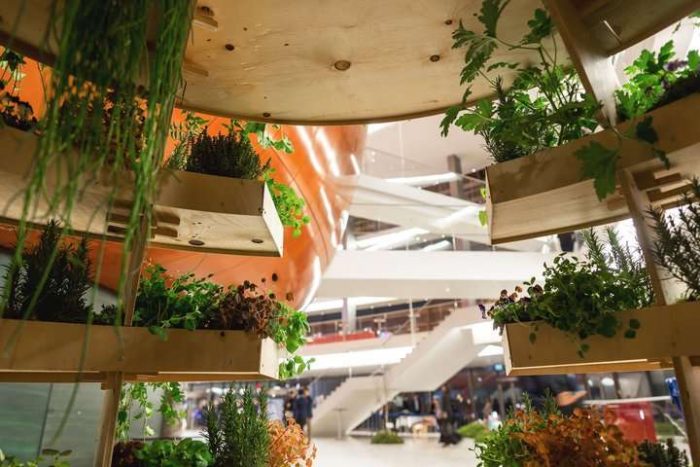 Oh, and about that open-source design… It was created that way with smaller communities in mind, according to Space10:
"It doesn't make sense to promote local food production and then start shipping it across oceans and continents."